Tablet Banking

Your accounts are right at your fingertips with our Kinderhook Bank Tablet Banking app!
With Kinderhook Bank Tablet Banking, you can have all the convenient features of Mobile Banking tailor-made for your tablet:
FEATURES INCLUDE:
View your account balances and recent transactions in real time
Pay bills from the palm of your hand with mobile bill pay
Transfer funds between accounts
Find a branch location or ATM
GET THE TABLET APP
Search for "Kinderhook Bank" in the App StoreTM or Google PlayTM and install the app on your tablet.
CURRENT MOBILE BANKING CUSTOMERS
Sign up today to stay connected to your accounts from your mobile phone or tablet. Kinderhook Bank Mobile is available to anyone enrolled in our Online Banking service. To enroll, Log in to Online Banking and sign up or download the app today!
To learn more about Kinderhook Bank Tablet Banking: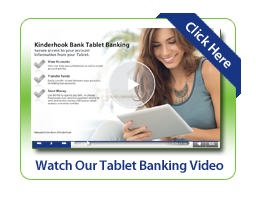 If you have questions, please contact us at 518.758.7101, or stop by your local branch!
*Message and data rates apply.
|| TOP ||